Main Content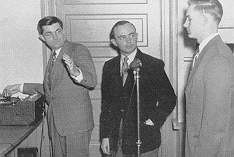 Professor Shirley records debate being delivered by Bob Crouch, Henry Huff looks on.
"Wake Forest's Debating Team participated in a recorded debate with sixteen of the top debating squads in the country. It was the first time in the history of debating that records had been used in a formal debate." Howler, 1949
Old Gold & Black, November 21, 1947
"Wake Forest College will enter a recorder debate with the University of New Mexico. . . The contest will be carried out in the following manner. Wake Forest will record a five-minute affirmative speech and will mail it to the University of New Mexico. Within forty-eight hours, the opponents must post-mark the recording of their first negative speech. Wake Forest, upon receipt of this will have to mail to New Mexico within forty-eight hours the recording of Wake's second affirmative speech. Then New Mexico will mail to Wake Forest their second negative discussion. Four two-minute rebuttals, delivered in the same manner will bring the debate to a close.
The entire debate, twenty-nine minutes long, will be presented over radio stations in the Southwest. Henry Huff and Dan Lovelace will speak for Wake Forest.
The Board of Trustees has authorized Professor Aycock to purchase recording machines.
Old Gold & Black, October 22, 1948
Wake Forest participated in the national recording debate tournament, where schools who had teams in the octa-finals at the NDT the year before recorded speeches, and shipped them to teams for 1st negative response, etc. Eastern US schools were pitted against Western colleges and universities.