Franklin Ray Shirley was born in Glencoe, Kentucky, on June 17, 1914, and spent his boyhood in the Bluegrass State.
After graduating from high school, he alternated college sessions with teaching assignments in one-room country schools, earning his bachelor's degree from Georgetown College, Kentucky, in 1938. Later, after marrying Mamie Mellichamp and teaching at the Baylor School for Boys, he enrolled in Columbia University and earned the master's degree in speech in 1948. He was awarded the degree, Doctor of Philosophy, by the University of Florida in 1959.
In 1948, he moved his young family from Carson Newman College to North Carolina where he joined the faculty of Wake Forest College as instructor of speech and director of theater and debate. Here, Dr. Shirley found his professional home, for Wake Forest offered what concerned him most: academic integrity, a consuming involvement in meaningful activities, and an association with the Baptist Church in which he had been raised.
At first, he was a member of the English Department, where he quickly developed a major in speech. When the College faculty created the Department of Speech in 1962, he became its first chairman. During his years at Wake Forest, he also served at one time or another on the Executive Committee, the Curriculum Committee, the Library Committee, and the Committee on Athletics.
A history of Franklin R. Shirley is provided by Patrick Speice, 2003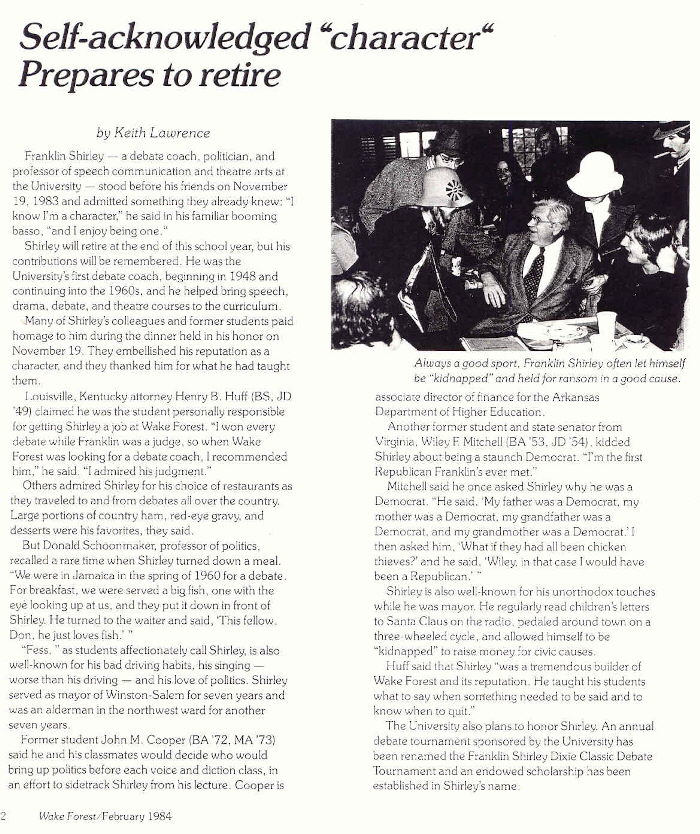 ---
Franklin R. Shirley (Died February 26, 1985)
Signed: May 13, 1985; Julian C. Burroughs, Donald O. Schoonmaker, Donald H. Wolfe
Under his direction, the Wake Forest debate program attracted national attention, and the department expanded to include offerings in Speech, Radio-TV-Film and Theater Arts. His leadership and vision are largely responsible for the development of public radio station, WFDD-FM, the exceptional theatre facilities in the Scales Fine Arts Center, and a nationally acknowledged graduate program in Speech Communication.
In addition to his college responsibilities, he cultivated his long standing interest in the history of public speaking and in rhetorical theory. He became an authority on the rhetoric of North Carolina's Reconstruction Governor Zebulon B. Vance and published a book and several articles on the subject. In later years, he studied the rhetoric of David Lloyd George of Great Britain. Among his numerous organizational memberships, Franklin Shirley was especially devoted to the Southern Speech Communication Association and served as its president in 1966-67. He was also a founding member of the North Carolina Speech Association, serving as president of that organization in 1961.
He had always loved politics and the Democratic party, and in Winston-Salem, he quickly found an opportunity to participate. He became a member of the City School Board, and later, from 1963 to 1970, he served as Alderman. In 1970, he was elected Mayor of Winston-Salem and held the office until 1977. He was also president of the North Carolina League of Municipalities and Chairman of the Piedmont Triad Council of Governments.
Franklin Shirley's memories of the Great Depression triggered a Life-long commitment to helping others. He believed in using government in progressive and constructive ways, and as Mayor of Winston-Salem, he continually supported those efforts which he thought would make Winston-Salem a better place in which to work and live.
Franklin Shirley's public life complemented his private self. He believed that public choices are highly important and that the private man and the public man are not separate entities but parts joined harmoniously by a sense of personal ethics and community justice.
Above all, Franklin Shirley believed in the value of education. He was dedicated to the proposition that democracy can only survive on the bedrock of an informed electorate. Believing that good speech is one of the marks of an educated person, he devoted his career to teaching the art of communication. He continually challenged young men and women to speak more clearly and logically and with substance.
Franklin Shirley was a selfless person. The man known affectionately to his students as "Fess" and "The Mayor" rarely said "no" to anyone or to any cause. Whatever needed to be done was done, without complaint. Warren Carr, his pastor, called him "servant to all, slave to none."
Overriding the diverse roles that he relished playing, Franklin Shirley can be seen as a figure of continuity for Wake Forest, for he reaffirmed the importance of good speech both inside and outside the curriculum. In so doing, he linked himself with the grand tradition of rhetoric as it existed in the classical education offered to Wake Forest's students throughout the nineteenth century.
Less so than most of us, Franklin Shirley had precious little guile. He was artless when it came to self-promotion, and he had as little cynicism as a strong interest in human nature will allow. At the end of it all, his sense of wonderment and awe at fragile man and this creation remained intact.
Franklin Ray Shirley was named Professor Emeritus of Speech in May of 1984. He died in Winston-Salem, North Carolina, on February 26, 1985.
---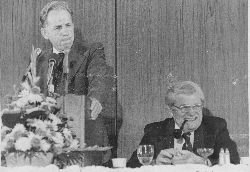 Franklin R. Shirley (Died February 26, 1985)
Wake Forest Baptist Church, February 28, 1985
by Warren Carr
Servant to all and slave to none~-this was Franklin Shirley. Servant? Yes, because doing for others and serving others, doing for institutions and serving institutions were customary for the man; they were fashions of his style of life. Slave? No, because Franklin Shirley would not sell himself into bondage, could not be marketed by entrepreneurs whether professors, politicians, or preachers. He nearly belonged to so many persons and things but was never taken captive by any or all of these because he belonged ultimately to Christ.
Shirley was a square and was square because he lived a four-cornered life. ,He moved with measured and unflagging pace among the institutions of his world, from family, to school, to city hall, to church, never going directly from one to the other but always from the one through Christ, at the center of his square, to the next responsibility to which he ,vas devoted. He belonged to each of these callings because he belonged to Christ.
Although towering physically over the diminutive Mamie, they managed to look each other in the eye, lived as equals with each other, birthing and nurturing their children with the loving blend of father bear and mother hen. As in every authentic family, their progeny gave them pause, but they scratched their heads instead of their children as they watched them grow in their own ways and with their respective agenda. It was a family of repartee, resonating with laughter, not because as the editorials would have it Franklin and family did not take themselves too seriously; Franklin Shirley knew far better than most that the serious issues of life need always to be addressed with good humor and consummate wit. Said some members of 'the family to me, in the interval between his death and now, "He was the best man I have ever known." When you said this to me, Mamie, it was not with nervous laughter but with a quiet and knowing smile. And among the children, one said this, "I have been learning along the way what a truly remarkable man my father was." Because he belonged to Christ he belonged to his family in so profound a way.
He belonged to Wake Forest University. During his tenure as Mayor of Winston-Salem, I could see the light in his study as I slipped into bed. He was determined that his classes would not suffer from his lack of preparation despite the drain of City Hall upon his time and energy. He asked the Chair of his department at the school to assign early morning classes to him so that he might greet his students before he was jaded by the duties of his political office. He insisted upon bearing his academic load. Nor were there many important university functions at which he was not in attendance. Wake Forest University loved Frank Shirley but it could not match his love for it. He be- longed in this manner to Wake Forest because he belonged to Christ.
He belonged to the city of Winston-Salem and its political life as a member of the Democratic party. Franklin Shirley was a fairly competent lay-theologian. As Mayor he often preached in the pulpit of many of the churches in the city. His theological astuteness, however, could never quite overcome one specific bias. Although believing in the doctrine of original sin, Frank assumed that it did not apply to the Democratic party–to Democrats perhaps but not to the party. He was a good politician because he gave his best to political causes. He was a happy politician because he knew that politics are not the stuff of ultimate solutions. He did not ascribe ultimate worth to politics because he belonged to Christ.
He belonged to the Church and to the Wake Forest Baptist Church in particular. He participated in its life together. He was always among us at worship, in fellowship, and on mission. Long ago he married the preacher's daughter, back in Kentucky, and from that time on he served the church and befriended its preacher and followed its Christ.
'Fess' has influenced my life," is the way Martha Wood put it at an occasion in his honor last spring. Martha is a member of Winston-Salem's aldermanic board in her own right, but "Fess," as she has always called Franklin Shirley, has figured in her decision. "'Fess has influenced my life as a beloved professor and °a politician, but what means most to me is that my three children have been able to know him. They have known him as their parents~ debate coach and close friend and as the Mayor of their city, but most importantly, they have known him in his place in Church on Sunday mornings." Such a tribute says as much for the protege as for the teacher and model, and it reveals the values they shared. He belonged to the Church, but even there not ultimately, because ultimately he belonged to Christ.
We shall miss him in the neighborhood. We will miss the sight of him coming down his severely pitched driveway or steep walk, peering around for the morning paper, often clad, whether summer or winter, in shorty pajamas under a disreputable terrycloth robe, as bad as mine–his white, mine yellow, both stained with printer's ink–in slippers with the heels mashed flat by the hasty intrusion of his feet, puzzling if the snow gathered around his toes. His greetings were hearty, his wave a salute of friendship.
Some have called him a character, a description agreeable to him. But this is not truly the case. He was not the character of Faculty Drive. He was character. Our neighborhood has not .lost.?. character; it has lost character. He belonged to us but never ultimately. He has always belonged ultimately to Christ, with whom he now is and shall forevermore be.
---
A Tribute
by David M. Zacks (Nov. 2, 1983)
I would like to communicate with you some very fond thoughts and memories of my four years while debating under the leadership of Dr. Shirley. These were the years 1960 through 1964 in which Ed Gaskins, Susie Jones, Frank Woods, Martha Swain, and myself regularly hit the road with "Fess" to debate all over this great land. Things I remember and could never forget include:
"Fess" loved to eat. He could never understand how a Jewish boy like me always ordered ham and eggs. Then again, he never knew a Jewish boy from New Bern.
"Fess" could never hit the toll booths around Richmond, Virginia when we went to the Cherry Blossom Tournament. I can always remember him throwing the quarters, missing the baskets and we would take off. I thought we would have to use our skills getting out of jail, but it never happened.
"Fess" would never let me live down the name my girlfriend called me "Sweetie Pie". That's pretty humiliating when your debate coach beckons for you as come here "Sweetie Pie" and your trying to look like a macho man getting ready to whip up on Georgetown University.
The more "Fess" would comb and brush the ducktail on the front of his hair, the more it would hang over his eyes. That was a characteristic I always remembered and as I grow older I'm just glad to have hair that approaches my eyes.
Who can ever forget taking debate trips with "Fess" and remember his singing ability?
In all serious, the one most striking characteristic I will always remember about "Fess" is his love and genuine admiration for those debaters he coached. He was much more than a professor to me and the others on our debate team. He was a man with that wonderful ability of being able to give of himself. I still carry fond memories of him in my hip pocket, and I will always respect and love him.
---
The characteristics of Franklin Shirley that stand out in my mind are his gentle- ness and supportiveness. When I was a senior back in 1951, he took a woman's team along with three men to a tournament in Florida by way of an Oklahoma meet. He drove his new Chevy, but since we were to be gone for about ten days, storage space was dear The information from Stillwater instructed the women to bring evening dresses for the final banquet. Well, Cecyle Arnold and I wanted to do the proper thing, so we lugged along, in our limited space, two long dresses. As it turned out, not one other woman debater brought her long dress: We had to sit through a banquet as well as walk to the podium for awards in those damn long dresses. We were embarrassed almost to tears. Fessa smiled and reassured us we looked great and that we had followed the directions and should be proud that we did. The pain was assuaged, somewhat.

The guys were always kidding him unmercifully — like hiding his hat when going into a restaurant. Once they hid it. He paid for the dinners and left after looking for his hat, thinking they had it with them in the car. Only later down the road they all discovered that it had been left back in the restaurant. In June the guys came around collecting money for a gift for Fessa. Actually, there were two gifts: a new hat and a quart of prune juice. He graciously laughed when he opened the latter and appeared thoroughly surprised at the former.

Elva Lawrence Hunt '51
---
Franklin Shirley Letter to Wake Forest Debates
Debate Update, March 1882
TO WAKE FOREST DEBATERS 1948-1967
At the end our years of teaching in May as a professor truthfully say that no years of my life have been more enjoyable than my teaching and coaching at Wake Forest and traveling with all of you debaters. I am especially grateful to Prof L. A., Aycock, who was director of debate and Professor of English at Forest, for recommending me for the position of debate coach and teacher and theatre courses.
In thinking about what I should say to you, I wanted to Mention you all by name and review your achievements while debating at Wake Forest. In fact, I have collected much data for such a survey. Then, I became fearful that I would omit someone, and this I would not want to do. I have always felt especially close to all of you.
I was recently given encouragement to complete an idea that I have long thought about. A letter last week came from professor Glenn Capp, long time debate coach at Baylor University. He said he was writing a history of debate at Baylor. He is now retired from teaching, and is spending much time in writing about debate at Baylor. Since I shall retire after the completion of two more years at Wake Forest, I hope I shall be able to do the same thing. At that time, I hope to the accomplishments of all of you. I already know of many of your achievements, but there are many that I have not learned about in years. I would like to hear from you.
While visiting Minneapolis three years ago, I attended church near the campus of the University of Minnesota. I entered the church, a man in the congregation jumped to his feet and yelled "Fess." The service had not begun. I immediately knew it was one of my Wake debaters. He was a professor in Political Science at the University. Of course, I was delighted to see him, and spent some time after the service in conversation.
One or my debaters, during my first years at Wake Forest, has sent me and my wife each Christmas a Christmas card. When I am in his city, I try to visit him at his law firm and we had lunch several times.
Last commencement, I was given the privilege of hooding the commencement speaker, who was one of my debaters at Wake Forest. An honorary doctorate was confirmed on him. This former debater is now chancellor of one of North Carolina's State Universities.
I have seen many of our outstanding former debaters at alumni dinners each year and I proud of these teachers, doctors, lawyers, etc.
The National Debate Tournament is directed by Wake Forest's own Dr. Michael Hazen, who is the director of program in the Speech Communication and Theatre Arts department. He is also the acting chair of our department while the chairman is chairman is in London teaching at Wake Forest's Worrell house. Dr. Hazen will continue as Acting Chairman while Dr. Donald Wolfe, who is the Chairman of the Department, is on sabbatical leave for study this Fall.
Dr. Merwyn Hayes, who replaced me as debate director in 1967, coach debate, directed the graduate program and the National Debate Tournament prior to the appoint director of Dr. Hazen as director of the N.D.T.. Dr. Hayes has left Wake Forest University, but he has established his own consulting firm, Hayes and Associates, and recently his firm has been purchased by Booke and Company with Dr. Hayes as a first Vice-President of the company.
Since Dr. Hayes gave up the debate work, the debate team has had three coaches: A. Tennyson Williams, a former Duke debater, from 1971-1975, and Fred McLean was the director for two years. (1975-1977). Mr. Allan Louden has been the Director of Debate for the past five years.
Those of you who know our Theatre Director, Dr. Harold Tedford, will be interested in knowing that he will be on leave in the Spring of 1983 for research. Many of you played duel roles participating in both theatre and debate. Therefore, I am sure you will be interested in our new theatre. Each year Mr. James Dodding of London teaches in the theatre and directs a play. My wife and I spent two months in London while on sabbatical leave in the Fall of 1980 for a study of the "Rhetoric of David Lloyd George."
Now that I have given some information on our faculty, I would like to say something about our women debaters. It seems that after I spent one year at Wake women became interested in debate and from that time have made a great contribution to debating at Wake Forest. In fact, I remember some years there were as many women debaters as men.
Since I have mentioned no names in this letter, I am sure you will forgive me for naming the deceased members. If I omit any names, please let me know about them. One of my first debaters, Robert Crouch, after becoming an outstanding doctor in Ashville died several years ago. Someone reported that Wilfred Winstead, who was a debater in 1952 and '53, and had become a newspaperman in Norfolk, Virginia had died a few weeks ago. David Hughes, a debater in 1955, '56, '57 and '58 was a professor at Centre College in Danville, Kentucky when he died about eight years ago. I am sure that those who knew them feel deeply that Wake Forest debaters lost good friends. I know I did.
Please come to see us often. Sincerely,
"Fess" or Fessor"
Franklin R. Shirley
---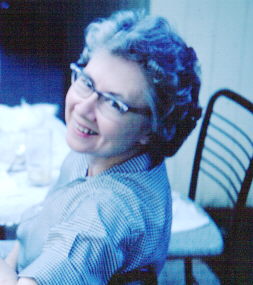 A Great Friend of Wake Debate Passes
by Martha Wood, December, 2000
Mamie Shirley, 84, passed away March 29, 2000, at Brookridge Retirement Community in Winston Salem. Mamie taught in the Winston-Salem/Forsyth County school system from 1956 to 1978. She was active in community affairs and the guiding force in helping her husband, Franklin R. Shirley, manage the Wake Debate program.
Martha (Swain) Wood ('65), one of Frank's debaters who followed in his footsteps as mayor of Winston-Salem, contributed the following tribute to Mamie:
Such a wee tiny woman, and she had Fess completely under her spell! No wonder either for those of us fortunate to have known Mamie Shirley.
With three children of her own to care for while Fess gallivanted all over the country with us debaters, she welcomed each of us into her home and life as though we belonged to her. Mamie managed us as skillfully as she did her husband, children, and the second-graders she taught for many years.
Always warm, gracious, and caring, Mamie made herself available whenever we needed her. She rejoiced in our victories, grieved with us over losses, and supported us constantly.
Fess was large enough physically, vocally, and temperamentally to overpower his wife at will, but he knew better than to try. Her diminutive stature and unpretentious demeanor belied a powerful presence.
Mamie's energy and self-confidence made her job as a working mom with a husband constantly on the go look easy. Now that many of us have had similar responsibilities, we wonder how she did it and still had rich reserves of tender loving care for each debate team member. A tiny woman, to be sure, but Mamie Shirley's compassion, strength, and integrity packed a wallop.