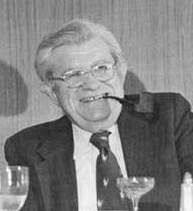 Dr. Shirley wrote down participants and major event chronicling his tenure as Wake Forest Director of Debate, 1947-1967
(The notes are reproduced as written)
Oct. 1947 1st Wed.
17 prospective debaters and other speakers
1st meeting of forensic group in Alumni Building under direction of Prof. A. L. Aycock
activities planned w/reference to participation in NC Student Leg. Assembly, local tournaments, and Pi Kappa Delta National in April
Return of 7 former members from military service
Bobby Smith, Bynum Shaw, JD Davis, Larry Williams – had previous experience in college oratory – big factor for team that year.
1948
Advisor to forensics squad – A. L. Aycock
Henry Huff – student manager
Bob Crouch, Lamar Caudle, J. B. Scott, Vernon Wall
Last year – Sam Behrends, Kermit Caldwell, Bob Smith
Huff and Dan Lovelace lead the team
Squad record Mar. 1947 –
Huff, Lovelace, Behrends, and Caldwell – won Southern Forensics Tournament
Won 13 out of 14 debates against teams from Virginia to Florida
Behrends & Huff – Finals of NIT in West Point in New York
Trip to Va. & D. C. in November – Scott, Caudle, Huff, & Lovelace competed w/squads from area colleges, S Eastern Forensics Tourn.
Lovelace & Huff won Charlottesville Va. Invit. Tourn. Feb 1948
Bob Crouch, Scott, Caudle, Huff – tied for 1st Place w/Florida
Jan. – Huff & Lovelace – recorded debate with University of New Mexico
Part. In Grand Nat'l Invitational Tourn. Fredericksburg, VA (March)
So. Speech Ass. Tourna. In Nashville (April)
PKD Regional Forensics Tourn. In Columbia SC
NIT at West Point (May)
1949
Leader – Franklin R. Shirley
Huff, Caudle, Bill Wagoner, Bob Crouch, Gordon Kelley
WF Debating team-recorded debate w/16 top other squads – 1st time records used in formal debate
Individual non-decision debates w/Duke, Furman, Georgia, Elon
USC- Carolina Forensics tourn. WON
Huff voted best speaker in tourn.
Wagoner – won 2nd place – 1st intercollegiate debate practice tourn. – U. of Vermont – won 6 of 8 debaters
Old Dominion Tourn., at Wm & Mary – 2nd place tie w/U. of Richmond George Washington team – 1st place
S. Atlantic Debate tourn. In March, WF defeated Naval Academy, Carson-Newman, UNC, Geo. Wash., & U. of Florida
S. Speech Tournament in Waco, Texas – WF had only senior college team to go thru tourn. Undefeated
Invitational Tourn. At UVA – non-decision
Nat'l PiKappa Delta Tourn., – Peoria, Il. – won 6 of 8 – rating excellent
Ed Chrisman, Gordon B. Kelly, Bill Wagoner, Hugh C. Dover, Bob Crouch, Dave Clark, Lamar Caudle, Henry Huff
1950
Spring initiates to PDK: Carol Oldham, Cecyle Arnold, Ann Kelly, Elva Lawrence, L. W. Pullen, Dave Clark, Camp Mason (Fresh.), Virgil Moorefield (Fresh.), Wiley Mitchell (Fresh.)
1st girls ever induced
L.W. Pullen – Pres., Arnold – V.P., Lawrence – Sec.
Frsh. part. in Tourn. at Richmond, Charlottesville, Birmingham, Atlanta
1st time in years a freshman debate team rep. College in more than 1 tourn. Debated w/upperclassman in all tourn. But 1
S. Speech tourn. (Birmingham) – all freshman teams – too first place
Girls – S. Atlantic Forensic Tourn. @ Lenoir-Rhyne college – ranked high
Non-decision debates w/Duke, State, Johns Hopkins, Elon
Caudle & Crouch – mainstay of varsity team 1 of best in South
Degree of Special Distinction – conferred by PDK – must debate 3 years on 3 diff. Subjects 18 debates, must win half
Record 40-5
Question of year – "Resolved that all basic, nonagricultural industries be nationalized" in 5 tourn.
Debating affirmative- Pullen & Clark (12-8)
Director of Debate – FRS – Named Governor of PKD regional providence
1951
5 PDK members – Nat'l convention at Oklahoma A&M in Stillwater, OK Pullen, Arnold, Lawrence, Mitchell, Moorefield, FRS went too
Team part. In 7 tournaments
Carolina Forensics Tourn. @ Columbia – women's affirmative team (Kelley, Clara Ellen Francis) won 1st places in women's div., Francis won loving cup as best [female symbol] division Lawrence – 1st among [female symbol] speakers
Men's team – Moorfield, Mitchell, Pullen, Charles Barham
Cherry Blossom Tour – Wash. D.C.- WF tied w/Kansas State College for 2nd place
Mitchell & Moorefield – d. Army, Notre Dame, Swarthmore, St. Ambrose of Iowa
Pullen & Joe Mooney d. Navy, Duke, Vermont, Georgetown, Kansas St. U, & Merchant Marine Academy
Savage Tourn. – Durant, Oklahoma
SoAtlantic Tourn – Hickory
PKD Nat'l Tourn – Stillwater, OK
S. Speech Convention – Gainesville, Fl
3 week trip – Arnold, Lawrence, Pullen, Moorefield, Mitchell accompanied by FRS
Manager – L.W. Pullen
Also debated Duke, State, Denison, U. of Ohio & Vermont
1952
The N. C. Beta Chapter of PKD, Nat'l Honorary Forensic Fraternity – active year
Officers – Virgil Moorefield, Joe Mauney, Clara Ellen Francis
Novice Debate Tourn. Held in early fall for Va. & Carolinas area schools
Chapter next sent reps to Providence Speech Tourn. In Columbus, Mississippi – won "Superior" in almost every event entered
7 new members initiated into fraternity
Forensics: "The Bull Ship" Dr. Shirley's car
Members: Joe Hough, Wilfred Winstead, Roger Cole, Kay Arant, Nancy Morris, Clara Ellen Francis, Billie Parrish, Wiley Mitchell, Louis Parrish, Lyn Ragan, Virgil Moorefield, Glen Garrison, Joe Mauney, Carwile LeRoy
1953
Team members: LeRoy, Hough, Dillard, Moorefiled, Arant, Mauney, Winstead, McNemar, Cole, Taylor, Garrison
1952-53- WF 1 of top debate powers in the South
Directed by Franklin R. Shirley – 16 debators, 8 were experienced members of '51-'52 squad.
Moorefield & Mauney – co-managers
Pre-Christmas tourns at Columbia, SC, Boone NC, Gainesville, FL – WF placed 2nd, won numerous honors, and won tourn. championship, respectively
won Ohio State Invitational at Columbus Ohio & took second place on the affirmative at the Miami Invitational
– other important torun. At Kalamazoo, Mich.
Cherry Blossom Invitational in Wash. DC
South Atlantic at Hickory NC
Southestern Speech at Greenville SC
West Point Regional at Atlanta GA
During the season WF took victories from such prominent teams as Army, Navy, Florida State, Ohio State, & Miami.
PKD Novice Tournament Participants: UNC, Duke, U of Richmond, USC, Roanoke College, Mars' Hill College
PKD also arranged to bring to campus for a single debate a team composed of leading debators from British Universities
PKD also sponsors a convention & tourn. biennially, this past spring the group met at Kalamazoo College, Michigan
PKD also had biennial regional tourn.
Officers of PKD: Pres. – Joe Mauney, V.P.- Virginal Moorefield, Sec. – Kay Avant
Frat. Members – LeRoy, Arant, Winstead, Garrison, Cole, Moorefield, Aycock, Mauney, Barham, Hough
1954
PKD members: Carwile LeRoy (Pres.), Joe Hough, Jim Greene, Georgia McNemar, Doris Taylor, Kay Arant (Sec.) Advisor – Miss Oldham
Debate Team won ACC title at Charlottesville, Va
West Point Tryouts
Latin Quarter
WF picked as 1 of 4 out to 9 southern states.
1955
traveled from Miami to California
Members – LeRoy, Hough, Barbara Massey, Marjorie Thomas
Debate Coach FRS
Emory, West point, U of Miami
Nat'l Debate tourn. at West Point – WF ranked 3rd
PKD sponsored novice debate Tournament or High School Students
Won national tournament in Miami
Members of PKD: LeRoy, Arant, Jo Chandler, Martha Bond Cook, Marjorie Thomas, Wilfred Winstead, Johnny Dawkins, Walter Ward.
1956
PDK members: Massey, Cook, Hughes, Blossom, Bunn, Taylor, Killian, Fisher
In the spring, delegates attended PKD tourn. at Tennessee Tech.
Marjorie Thomas – President
PKD sponsored novice tourn. for HS students
WF Debate Team traveled from Florida to Boston & westward to Mississippi
Varsity team members: M. Thomas, Barbara Massey, Chris Blossom, David Hughes
FRS was debate coach
Entered nat'l debate tournament at West Point
Held Novice Debate Tourn.
1957
PKD: President – David Hughes FRS – advisor
Society sponsored Eighth Annual Novice Debate Tourn. & assisted debate Team in other tournaments
April 14th – FRS & several society members attended Nat'l PKD Convention in Brooking, So. Dakota
PKD Members: Grubbs, McDuffie, Peterson, Thomas, Bentley, Hughes, Blackwell
Debate Team traveled from Miami to Dartmouth
David Hughes selected as top debater at the Ninth Annual Cross-Examination Tourn. held at U of Pittsburgh in Dec. – he competed against over 200 top debates from all over the nation and earned the highest individual debating award at First Annual Dixie Classics Tourn. held on WF campus.
PKD sponsored Novice Debate tourn. in Oct.
WF hosted ACC tournament in March
Debate Team members: Gardner, Thomas, Julian, Carroll, Waldrop, Hughes, Burleson, Bentley, Myers
1958
Debate season began w/Novice Debate Tourn.
Debate team made trips from of So. Carolina, U of Pittsburgh, U of Miami
In Miami, David Hughes named 3rd top debater in contests
Debaters: Schoonmaker, Julian, Spoon, Dailey, Carroll, Burleson, Hughes, Grubbs, Shaw, Peele, Alford
1959
PKD members: John Alford, Charles Bentley, dick Burleson, Allen Carroll, Sherry Dailey, Joe Grubbs, Ann Julian, Barbara Peele, Don Schoonmaker, Earl Shaw, Prof. FRS, Don Spoon, Susie Jones.
Debate Team 1st entered Novice Tourn. Held at WF
Next – Dixie Classic Tournament including WFC, Notre Dame, U of Florida, & Duke
Debaters then traveled to Pittsburgh
After examines, a trip to U of Miami
Feb. – tourn. at William & Mary, The Capitol Hill Tourn. at Maryland, a& trip to Northwestern Owen Coon Tourn.
Season ended w/ a trip to Florida.
1960
Debate schedule began w/Novice tourn. sponsored by WF
November – debaters won 6 trophies from the Carolina Forensics Tourn. in Columbia, SC by winning 1st place in varsity & novice divisions
Wf hosted Dixie Classics, Southern Speech Association, ACC tournament, & NC High School Speech & Debate Festival
Trip to West Indies
College entertained students of the University College of the West Indies
In Octover 2 guest debaters from Cambridge U. part. in a public debate w/WF students
PKD members: Sherry Dailey, Allen Carroll, John Alford, Linda Guy, Lewis Morgan, Bob Day, Jim Baucom, Tommy Long, Ann Julian, Barbara Peele, Bill Strum, Bill Horne, Don Spoon,, Dick Burleson (PRES), Joe Grupps (VP), Susie Jones (SEC), Don Schoonmaker (TRES)
1961
illegible
PKD members – S. Jones, L. Guy, S. Dailey, A. Baker, G. Blackburn
1962
PKD members; E. Gaskins, D. Zacks, Dr. Shirley, F. Wood, S. Jones, A. Baker
Debate Team – Under direction of FRS, tame travelled (sic) over 9,000 miles
sponsored exhibition debates w/ Cambridge University and the University College of the West Indies
On campus; Novice Debate Tourn., Dixie Classics Tourn., NC High School Speech Festival
1963
Debate Team – busiest & most successful season in years
Traveled over 14,000 miles, winning 4 tournaments and earning high honors in several others
Highlighting the year's competition – grand team sweep of ACC tourn. in January.
Team took 1st place trophies on both sides of the year's top in novice as well as varsity divisions
"Resolved: that the non-Communist nations should establish an economic community."
All of the individual debaters scored among the top ten speakers in each division
Ed Gaskins, only senior on team, recognized as top debater in the tourn.
Team also won trophies in tournaments at Ohio State Univ., S.C., Pittsburgh, Richmond, Davidson College, WF Novice Tourn.
8 reg. Members of varsity team = 2 full 4-man squads attending 22 tournaments during the year
team of Gaskins & Wood competed in West Point Nat'l Championship – to qualify, they had to survive the Southeast regional eliminations
First time in several years that WF has qualified for the tournament.
1964
Debate Team Members – K. Strasser, J. Partney, M. Swain, F. Wood, P. Wilson, S. Harahan, N. Tate, R. Wilets, J. Wood, D. Zacks
Team traveled 75,000 miles
annual ACC Tourn – kept 1st place record, has held for the past 3 years
WF's Dixie Classic – all 3 Deacon Teams participated & were 1st place winners
Team placed among the top 8 out of 75 in the Northwestern University meet & took second place awards at both Richmond & So. Carolina
Primarily debated topic: "Resolved that the Federal Government should guarantee the opportunity for higher education to all qualified high school graduates"
Dr. Shirley – debate coach
University of Tenn hosted district tourn. of Tau Kappa Alpha, nat'l forensic frat.
team also traveled to Butler U. in Indiana for regional frat. Competition
TKA part. in Novice Debate Tourn. – U of Richmond was overall winner
TKA members: F. Wood, M. Swaoin, B. Dorsey, N. Tate, D. Zacks
1965
Team won 1st place honors at Pittsburgh's Cross-Exam tourn., at the Invitational of the University of Richmond
Debated nat'l topic, "Resolved: That the Federal Government should establish a national program of public work for the unemployed."
Novice team also had a very good performance at all tournaments
1966
Unusually large percentage of freshman team members
Arguing nat'l topic, "Resolved: Law enforcement agencies should be given more freedom in the investigation and prosecution of crime."
Over 25 tournaments , in Nashville, Miami, Detroit, Washington
Team also sent delegates to the DSR-TKA Nat'l Debate Tourn. In Reno, Nevada
WF Debaters placed 3rd in ACC Tourn.
Team members: J. Cabezas, C. Hauser, W. Radford, J. Partney, P. McNurry, S. Bowles, K. Godwin, B. Anderson, J. Tate
1967
This year's topic "Resolved: That the United States should substantially reduce its foreign policy commitments."
Team traveled to schools such as Dartmouth, Duke, Emory, & U.S. Naval Academy
Members – D. Leader, P. McMurry, J. Abernathy, C. Day, P. Pettyjohn, D. Wilson, G. Spencer, R. Anderson